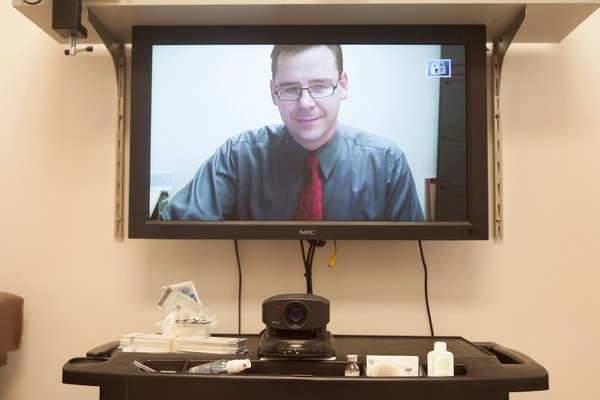 When Sarah Cohen's acne drove her to visit a dermatologist in July, that's what she figured she'd be doing — visiting a dermatologist. But at the hospital on Nantucket, where her family spends summers, Ms. Cohen, 19, was perplexed.
"I thought I was going to see a regular doctor," she said, but instead she saw "this giant screen."
Suddenly, two doctors appeared on the video screen: dermatologists in Boston. A nurse in the room with Ms. Cohen held a magnifying camera to her face, and suggested she close her eyes.
Why? she wondered — then understood. The camera transmitted images of her face on screen, so the doctors could eyeball every bump and crater. "Oh my God, I thought I was going to cry," Ms. Cohen recalled. "Even if you've never seen that pimple before, it's there."
That, she realized, was the point. Technology, like these cameras and screens, is making it affordable and effective for doctors to examine patients without actually being there.
More hospitals and medical practices are adopting these techniques, finding they save money and for some patients work as well as flesh-and-blood visits. Click here to read the full New York Times article.